Listed:

March 30, 2019 12:47 am
Description
Agrobank Scholarship Award Programme
Scholarship details
The Agrobank Scholarship Award Programme is for Degree students at local public or private institutions. PTPTN recipients may apply too!
Applicant must meet all the below requirements
Malaysian citizen below 23 years old
Must be a full time degree student at an accredited local IPTA/IPTS
Student must complete first year or two (2) semesters at IPTA/IPTS
Degree programme with minimum 4 semesters or 2 years at point of intake
Minimum CGPA of 3.20
Minimum Band 3 of the Malaysian University English Test (MUET)
Active participation in extra curricular activities will be an advantage
Excellent personality traits
Must not be recipient of any scholarship, financial aid or award that requires a service bond
Satisfactory medical report
Preferred Discipline
All
Accounting & Business
Arts & Communication
Aviation & Maritime
Computer & Multimedia
Education & Languages
Engineering & Architecture
Environmental & Marine
Hospitality & Tourism
Law & Humanities
Maths,Sciences & Technology
Medicine, Health & Sciences
Amount Info
Subsistence: RM 3,500.00 per semester
Accommodation: RM 2,000.00 per semester
Books: RM 500.00 per semester
Practical: RM 700.00 per semester
A laptop at point of intake
How to apply for Agrobank Scholarship 2019
APPLICATION PROCESS:
Go to Agrobank's website: agrobank.com.my
Click to this link: /home/careers/scholarship/
Attach all the supporting and relevant document
Send to:
LEARNING & TALENT DELEVOPMENT DEPARTMENT (LTDD),
HUMAN RESOURCE DIVISION, AGROBANK
Level 12, Leboh Pasar Besar, P.O Box 10815, 50726 Kuala Lumpur, Malaysia.
*Only shortlisted candidates will be notified
CLOSE DATE : 19 APRIL 2019 | APPLY NOW!!

FOR LATEST SCHOLARSHIPS INFO DIRECT TO YOUR PHONE - PLEASE JOIN OUR TELEGRAM => CLICK BELOW..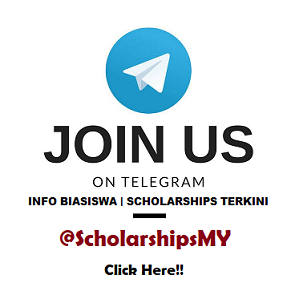 Ad Reference ID: 8155995c8b1746eb