Listed:

August 17, 2017 4:35 pm
Description
Advertisement
LOTTE Scholarship Foundation invites academic excellent undergraduates who have been offered to study in University of Malaya, Universiti Teknologi Malaysia and Universiti Sains Malaysia to apply the LOTTE Scholarship.

Amount
USD 3,000 per academic year
Internship program at LOTTE CHEMICAL TITAN
Guaranteed employment opportunity upon completion of studies by serving employment bond equivalent to years of scholarship received. Subject to terms and condition applied.

Preferred Discipline
Bachelor of Chemical Engineering
Bachelor of Mechanical Engineering
Bachelor of Polymer Engineering
Bachelor of Applied Chemistry

Condition For Application
Candidates must be Malaysian citizens.
Candidates should possess good academic qualifications and active in co- curricular activities.
Candidates must not currently receiving educational sponsorship from other sponsors.
Only undergraduates pursue study for first full-time degree course are eligible to apply. Those pursuing Diploma, Foundation, off-campus courses, etc. are not eligible to apply.
Candidates must be pursuing study in 1st semester of 1st academic year (New intake of September 2017).

Academic Qualification Required
Diploma & Matriculation

CGPA min 3.30
Malaysian University English Test (MUET) at least Band 4

STPM

Completed STPM, with at least 2 Principal A & 1 B in Mathematics, Chemistry & Physics.
Malaysian University English Test (MUET) at least Band 4.

How To Apply
Download the application form from HERE and send to the address in Contact Info.
Kindly indicate "LOTTE Scholarship Programme" at the top left corner of the envelope.
Visit to UM webpage  :    https://engine.um.edu.my/ or https://fs.um.edu.my/
Visit to UTM webpage:    http://www.utm.my/academic/scholarship/
Visit to USM webpage:    http://www.eng.usm.my/ or http://hepa.usm.my/

Contact Info
| | | |
| --- | --- | --- |
| Ms. Chloe Teng | (hyteng@lottechem.my, ext 8930) | UM Application |
| Ms. Soon Yardley | (yardleys@lottechem.my, ext 8609 | UTM Application |
| Mr. Lam Tin Teck | (ttlam@lottechem.my, ext 8638) | USM Application |
Human Resources Department
LOTTE CHEMICAL TITAN
PLO 312, Jalan Tembaga 4,
Pasir Gudang Industrial Estate
81700 Pasir Gudang, Johor, Malaysia
Website : http://www.lottechem.my
Tel : +607-2538888
Closing Date 15th September 2017
Advertisement

FOR LATEST SCHOLARSHIPS INFO DIRECT TO YOUR PHONE - PLEASE JOIN OUR TELEGRAM => CLICK BELOW..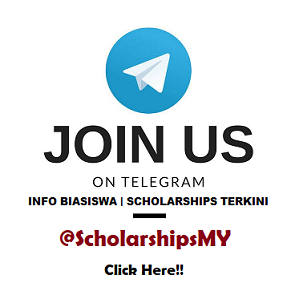 Ad Reference ID: 4055995c5c4a45b4