Listed:

March 1, 2021 9:49 am
Description
Advertisement
Scholarship details
Global Korea Scholarship is designed to provide international students with opportunities to study at higher educational institutions in Korea for academic degrees, which will enhance international education exchange and deepen mutual friendship between Korea and participating countries.
Quota for Malaysian scholars: 3!
Criteria
Applicant must meet all the below requirements
Below is just a few eligibility factors, you should read very carefully all guidelines).
Age : must be under 25 years of age as of March 1, 2021. (born after March 1, 1996).
Must hold high School Diploma as of Marsh 1st, 2021, or must be expected to graduate high school by March 1st, 2021.
A person who have graduated a high school (including international school ) In Korea or hold a bachelor's degree cannot apply to this program
How to apply for Korean Government Scholarship Program for Undergraduate Degrees
For more information about the scholarship, click here.
Submission Deadline: Friday 19th March 2021, by 15:00 to the Korean Embassy* (by hand or post)
* Korean Embassy: No 9 & 11 Jalan Nipah Off Jalan Ampang 55000 Kuala Lumpur
 (we will not accept any application after this deadline)
Contact Info
For more information, please contact:
Address:
If you still have difficulty finding relevant information, please refer to the contact below:
Full Malaysia Scholarships CLICK HERE!!
Advertisement

FOR LATEST SCHOLARSHIPS INFO DIRECT TO YOUR PHONE - PLEASE JOIN OUR TELEGRAM => CLICK BELOW..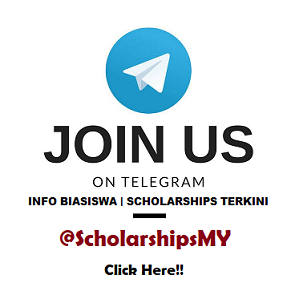 Ad Reference ID: 8805f66b516164e7