Listed:

June 24, 2022 8:46 am
Description
Advertisement
Scholarship details
YSD PRE-UNIVERSITY
SCHOLARSHIP LEADING TO UNDERGRADUATE STUDIES AT A TOP GLOBAL UNIVERSITY
Yayasan Sime Darby invites qualified school leavers to apply for an excellence scholarship to pursue pre-university studies locally, leading to a top global university.

1. Eligibility Requirements
a) Malaysian.
b) Age 18 years old or below.
c) Minimum result of 7 As (A+ and A only) for SPM 2021 ; or other equivalent school qualifications.
d) Total monthly gross household income of RM11,000 and below.
e) Strong leadership qualities through various leadership positions in school, national and/or global competitions and/or sporting events.
f) Active participation in community service.

2. Accepted Fields of Study
Business / Social Science related courses:
a) Accounting & Finance
b) Business & Management Studies
c) Economics
d) Psychology / Human Resource
e) Digital Marketing
f) Communication / Media
g) Logistics & Supply Chain Management

Engineering and Technology related courses:
a) Architecture & Built Environment
b) Real Estate & Property Management
c) Electrical & Electronic Engineering
d) Civil Engineering
e) Mechanical Engineering / Mechatronic (Robotic)
f) Chemical Engineering
g) Computer Science
h) Information Technology / Data Science / Drone
Science / Agriculture related courses:
a) Agronomy
b) Plantation Management
c) Biological / Natural Sciences
d) Chemistry
3. Accepted Universities*
2-year Cambridge A-Level Programme (pre-university) at Kolej Tuanku Ja'afar (KTJ), leading to undergraduate studies at a top global university.
Note: Students' pre-university admission will be arranged by YSD.
4. Value of Scholarship
The full scholarship includes tuition fees, board and lodging, a computer allowance, shipping allowance, clothing allowance and flight tickets at the beginning and end of studies.
Scholarship recipients will have the opportunity to undergo YSD THRIVE – Future Leaders, a comprehensive learning experience for YSD scholars towards producing high quality and well-rounded graduates. This programme offers tailored soft skills training, access to an e-learning platform, volunteering opportunities, mentorship and internships at a Sime Darby Company i.e. Sime Darby Berhad, Sime Darby Plantation Berhad and/or Sime Darby Property Berhad.
Note: Scholarship monies will be disbursed upon execution of scholarship agreement.
5. Service Bond Period
6 years at a Sime Darby Company upon completion of studies.
6. Application
Scholarship application is open . CLICK HERE for online submission.
Thank you.
(*) terms and conditions apply
FOR FULL MALAYSIA SCHOLARSHIPS CLICK HERE
Advertisement

FOR LATEST SCHOLARSHIPS INFO DIRECT TO YOUR PHONE - PLEASE JOIN OUR TELEGRAM => CLICK BELOW..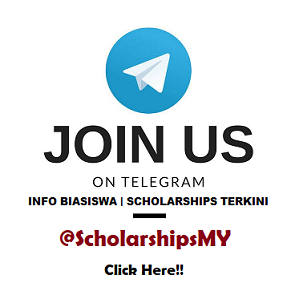 Ad Reference ID: 9275a9e0f7f9a069