Listed:

April 25, 2021 2:24 am
Description
Advertisement
Scholarship details
Overview
The Top Glove Scholarship Fund was established with objective of offering scholarship to qualified students who are pursuing full time degree courses (undergraduate) & (postgraduate ie. Master & PHD studies) at local public universities.
Criteria
Applicant must meet all the below requirements
Good academic results in STPM
Has gained acceptance into local public universities
Active in co-curriculum activities
Lack of financial support to pursue tertiary studies
---
Other terms and conditions
The successful applicant must enter into a scholarship agreement with Top Glove Foundation ("the Foundation").
The applicant must not be bonded to any other body or organisation.
The successful applicant must not, without the prior written consent of the Foundation, accept any other scholarships or forms of financial aid from other sources whatsoever while he/she is continuing to receive any form of financial aid from the Foundation and/or when his/her scholarship agreement with the Foundation is still in force.
Each individual applicant is responsible for all costs incurred in the course of applying for the Scholarship.
The Foundation reserves the right to make changes to these Terms and Conditions without prior notice at any time and/or the right to cancel, modify, suspend, delay or withdraw its offer of the Scholarship programme at its sole and absolute discretion and the applicant(s) will be bound by such changes.
All decisions of the Foundation in any matter in relation to the Scholarship programme will be final and binding and no appeal, discussion or correspondence will be entertained.
Only short-listed applicants will be notified via email and/or phone call for an interview.
Successful applicants will be required to serve TOP GLOVE GROUP OF COMPANIES based on the duration of the scholarship for instance if we provide 4 years scholarship, the applicant is required to bond with Top Glove for 4 years or etc upon completion of their studies.
If you wish to apply for release before the commencement of the scholarship bond or to terminate the scholarship bond before the stipulated period, you are required to pay back to the TTG Scholarship Award is established with the objective of offering scholarship to qualified students who are pursuing full time degree courses (undergraduate). Awards for undergraduate studies are divided to two categories; award for local public university and award for selected Taiwan universities.


TG FOUNDATION SCHOLARSHIP

Scholarship value : RM 13,000 per year

Preferred Discipline for Scholarship Application
Engineering/Sciences

Mechatronics Engineering
Mechanical Engineering
Chemical Engineering
Manufacturing Engineering
Electric & Electronic Engineering
Civil Engineering
Chemistry / Bio Chemistry / Physics / Mathematics
Polymer Science / Applied Science

Business Management

Accounting, Commerce and Finance
Statistics/Mathematics
Marketing/E-Commerce
Economics
Computer Science & Technology
Human Resources
Business Administration/Management

Please take note of the scholarship application timeline:

| | |
| --- | --- |
| Submission Period | February to May |
| Face to Face Interview | July |
| Results | August |

The Scholarship Award(s) is offered to any Malaysian citizen with their actual results obtained in one sitting. The criteria as below:

Possess good academic qualifications (minimum)
SPM/O-Level 10A+/A in the relevant subjects, including English Language UEC 3As Matriculation/ STPM/ Foundation/ A-Levels CGPA >3.5, with relevant subjects taken into consideration
Active participation in extracurricular or sport activities – Strong record of leadership.
Applicants must be in good health and strong physique; and
Applicants must not be presently holding other scholarship/loans with bonding period from any other corporation/Scholarship or governmental body.
Late and incomplete applications will not be considered.

Download and complete the application form.
Post the completed form to :
Scholarship Application
LEVEL 21, TOP GLOVE TOWER,
16, PERSIARAN SETIA DAGANG, SETIA ALAM,
SEKSYEN U13,
40170 SHAH ALAM, SELANGOR D.E. MALAYSIA.
Tel: +603-3362 3098
Fax: +603-3362 3860
Email : tgscholarship@topglove.com.my
Please take note of the scholarship application timeline. Upon closing of the application window, the scholarship committee will review the applications and shortlist eligible candidates for interviews. There will be application evaluation period and interview before the final list of scholarship recipients are announced. Submission Period February to May Face to Face Interview July Results August
ONLY successful applicants will be notified via email and/or phone call.

Download Scholarship Form | APPLY NOW!!

FULL MALAYSIA SCHOALRSHIPS CLICK HERE
Advertisement

FOR LATEST SCHOLARSHIPS INFO DIRECT TO YOUR PHONE - PLEASE JOIN OUR TELEGRAM => CLICK BELOW..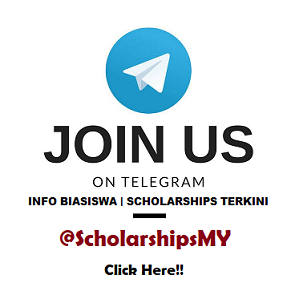 Ad Reference ID: 2385a84ef70b9836