Listed:

March 21, 2020 12:55 am
Description
Permodalan Nasional Berhad (PNB) is Malaysia's leading fund management company with assets under management of over RM279 billion. PNB's portfolio covers strategic investments in leading Malaysian corporates, global equity, private investments and real estate. With the aspiration to become a world-class distinctive investment house, PNB would like to invite all qualified candidates to apply for PNB Global Scholarship Award 2018.
+ Criteria
Applicant must meet all the below requirements
Earned a MINIMUM of 8A (A + or A ONLY, A- NOT considered) in SPM 2019.
Obtained a MINIMUM grade of A2 in English 1119 (GCE-O) in SPM 2019.
Age not exceeding 19 years on 1 January 2020.
Active in co-curricular and sports activities, have high leadership qualities as well as teamwork.
Has excellent skills and communication skills.
No immediate family has ever received or received any Scholarship Award from PNB.
Sucessful applicants will enroll in a preparatory course at Kolej Persediaan in Malaysia before going on to pursue a Bachelor's Degree at universities selected by PNB, based on PNB's requirements.
Candidates are required to write in Bahagian IV carefully (in application form) with ONLY THREE selected courses except Pharmacy, Dentistry, Medicine and any other course unrelated to PNB.
Upon passing the preparatory course and meeting other requirements, applicant must obtain a place at universities selected by PNB for their Bachelor's Degree level studies.
+Preferred Discipline
EXCEPT medicine, dentistry and courses NOT related to PNB.
Accounting & Business
Arts & Communication
Aviation & Maritime
Computer & Multimedia
Education & Languages
Engineering & Architecture
Environmental & Marine
Law & Humanities
Maths,Sciences & Technology
Pre-University
How to apply for PNB Global Scholarship Award 2020
1Fill in ALL the required information in the application form (found below)
PNB Global Scholarship Award 2020 Advertisement
PNB Global Scholarship Award 2020 Application Form
Close Date : 25 March 2020

Read :  Full SPM/STPM Scholarships 2020 – Click Here

FOR LATEST SCHOLARSHIPS INFO DIRECT TO YOUR PHONE - PLEASE JOIN OUR TELEGRAM => CLICK BELOW..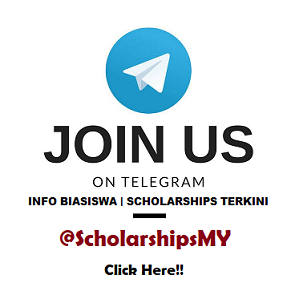 Ad Reference ID: 6285aa678d2ba26b